With the introduction of Ubuntu 22.04 Canonical once again delivers on its promise to offer a secure, reliable and consistent open-source platform for cloud, edge and IoT systems alike. Launched on the 21st of April, 2022, Jammy Jellyfish is a long-term release (LTS) with continued support for the next 5 years.
Ubuntu 22.04 brings a ton of fascinating features for developers, system administrators and desktop users. Let's review some of the most fundamental updates that Jammy Jellyfish brings us.
For Developers
OpenSSL 3.0
Ubuntu 22.04 has transitioned to OpenSSL 3.0 which is a major release that brings new cryptographic algorithms to elevate SSL connection security. Even though OpenSSL 3.0 does not ensure full backwards compatibility, most applications will be able run it without any changes unless they are using low-level OpenSSL APIs.
Programming Toolchain
Ubuntu 22.04 ships with renewed software development libraries:
Golang 1.18,
PHP 8.1,
Ruby 3.0,
OpenJDK 18,
Perl 5.34,
Rust 1.58,
glibc 2.35,
Django 3.2.12.
Database Packages
Two of the most popular open-source databases – PostgreSQL and MySQL – have also been updated to versions 14 and 8.0.28 accorindgly. You may now download them from the official Ubuntu repositories.
LTS Docker Images
A Canonical-maintained Docker base image for Ubuntu 22.04 is available on Docker Hub. It is already being used along with other LTS application container images on Docker Hub, including MySQL, PostgreSQL, NGINX, Grafana Loki, Apache Kafka and Apache Cassandra.
For System Administrators
CPU Architecture Support
Ubuntu 22.04 continues to be one of the most widely adopted operating systems as of today, as it can be run on all major processor architectures, including x86-64, ARM v7, ARM64, POWER8, POWER9, IBM s390x (LinuxONE) and RISC-V.
Linux Kernel
Ubuntu 22.04 uses Linux Kernel version 5.15 which is one of the newest kernel versions available that has already been tested enough to be considered a stable system by Canonical. Linux Kernel 5.15, among other things, comes with NTFS3 file system driver, has an in-kernel space SMB server and supports new hardware, including AMD CPUs and GPUs, Apple's M1 chip and Intel Alder Lake CPUs.
Raspberry Pi Support
With Ubuntu 22.04 Canonical has certified Ubuntu Desktop support for the Raspberry Pi 4 targeting the 2GB model as well. Ubuntu is now faster than ever on Pi due to the Zswap compression tool and other improvements.
Main Component Promotions
The list of software that is fully supported by the Ubuntu team has expanded once again. Wireguard Kernel VPN tunnel, GlusterFS distributed file system, and FRRouting protocol suite are now under the Ubuntu main component.
Firewall Backend
Nftables is now the default backend for Ubuntu firewall replacing the legacy xtables backend. Ubuntu's default front-end firewall ufw continues to be fully compatible with nftables as it was with xtables.
Network Time Security
Ubuntu 22.04 now supports Network Time Security (NTS) that provides cryptographic security for the client-server mode of the Network Time Protocol (NTP). NTS gives users an authentication mechanism to obtain time and make applications that rely on time more secure.
For Desktop Users
GNOME 42
GNOME 42 is a major improvement to the desktop environment. The earlier versions of Ubuntu only included GNOME 40 by default, so expect to find some major improvements to your desktop environment in this new build, including significant usability, design and performance tweaks.
Let's now reviews some of the most important changes that GNOME 42 brings.
Upgraded Apps
Many GNOME applications have been face-lifted with the introduction of libadwaita – a GTK 4 library implementing the GNOME human interface guidelines. The stylesheet of application components have been completely re-designed. As a result, these apps have better performance, modern UI style, and new user interface elements.
You may take a look at the brand new GNOME Text Editor that offers all essentials (themes, unsaved file handling, syntax highlighing, etc.) with a more intuitive user interface: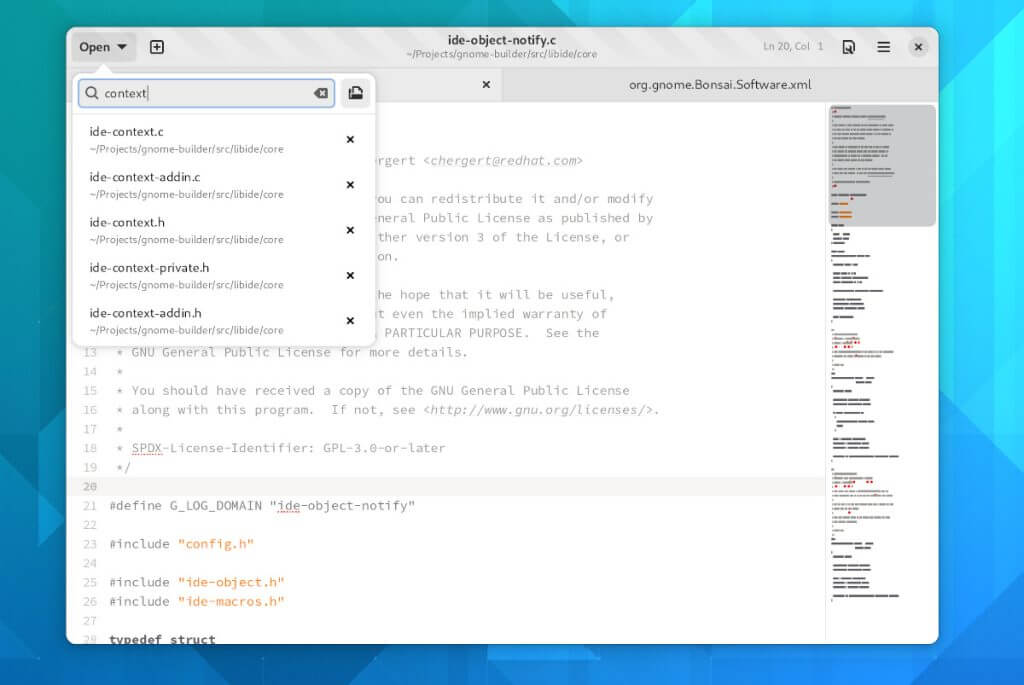 Or peek at the revamped Console terminal that comes out-of-the-box with GNOME 42:
Screenshot Tool
GNOME 42 brings a native screenshot tool for making screenshots and screen recordings which is a vital for collaboration and communication purposes. Just hit the Print Screen button and start shooting: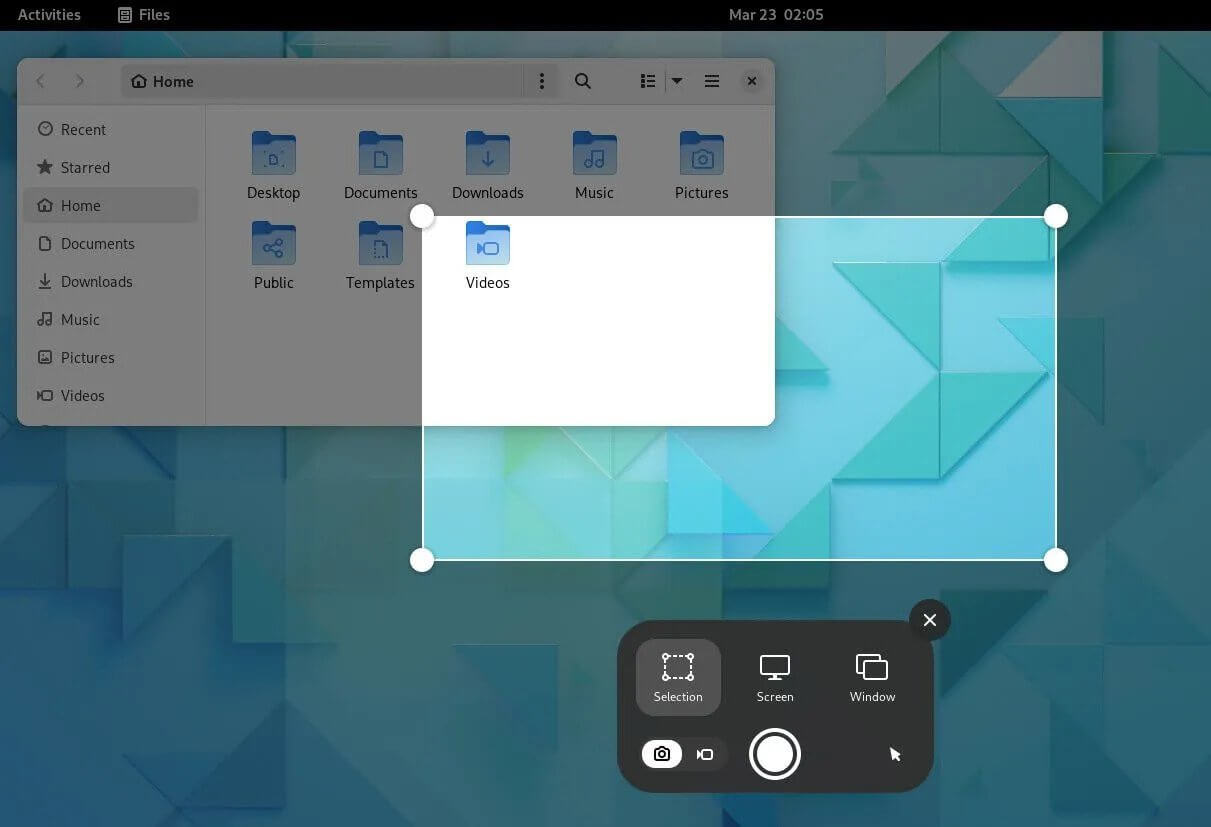 Global Dark Style UI
If you prefer dark over light, there's now a global dark theme available that you can turn on through Appearance Settings. After turing it on, system windows, applications and even wallpapers will go dark and make your desktop environment look more distinct.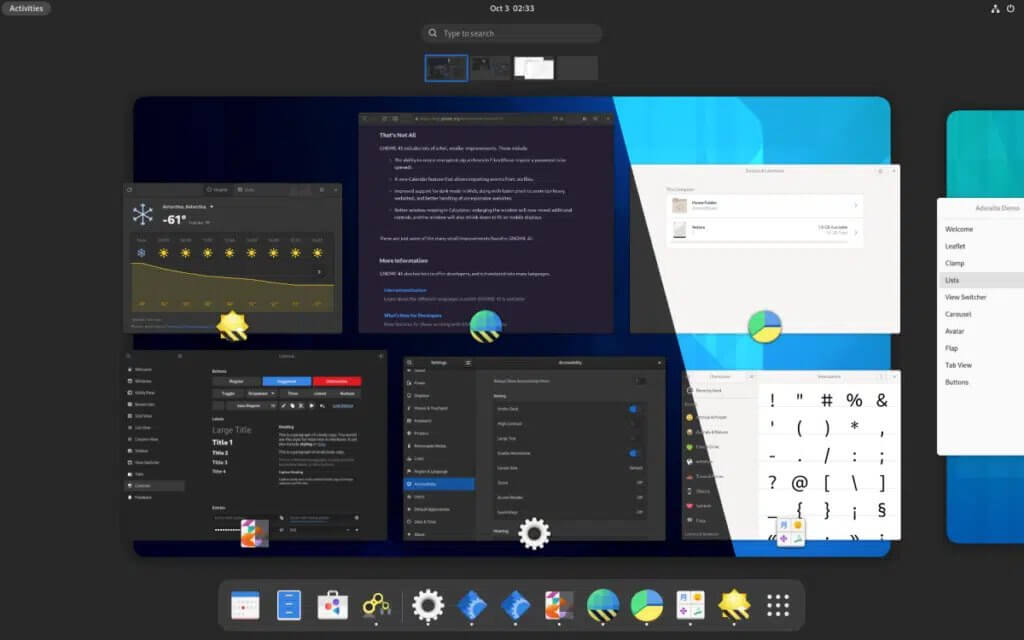 RDP Support
Remote users may now connect to your Ubuntu Desktop environment through the Microsoft proprietary RDP protocol that is considered more secure than VNC because RDP supports session encryption.
Performance Improvements
GNOME 42 takes a big leap forward when it comes to system performance and resource utilization. Here are some of the most fundamental changes introduced by GNOME 42:
Dynamic Tripple Buffering has finally been released. When your system is not able to maintain full frame rate tripple buffering comes into play making the next frame dispatched on time instead of also starting late. A GPU clock boost can also be dynamically triggered by the driver in such situations.
Application events can now be handled at full input device rate. Previously GNOME was limiting the input motion event rate. For instance, even though your mouse may had input frequency of 1000Hz it was capped by 60Hz of your display frequency. This limiting factor is now off the table which should make gamers and graphical designers feel the difference.
The official GNOME video player – Videos – now uses OpenGL accelerated rendering for smooth video decoding.
Tracker – a file search engine and file metadata storage system – has been updated to version 3.3 with its memory usage cut in half, and up to 3 times fater startup time.
Power management now works at runtime for AMD and Nvidia GPUs resulting in extended battery time for laptop users. It is a great addition, given how much of a nuisance battery problems on various devices are.
Wayland
Ubuntu 22.04 is using Wayland Display Server Protocol as the default option for specifying communication between a display server and desktop applications. It is now compatible with the latest Nvidia 510 driver series and serves as a more simple, secure and performant alternative to Xorg for all devices including Nvidia GPU cards that support 510+ drivers.
Wayland outperforms Xorg in terms of power efficiency, while Wayland vs Xorg graphical performance benchmarks look very similar on Nvidia GPUs, and Xorg is still more stable and more compatible.
Core Application Updates
Many core Ubuntu applications were updated, including the following:
Firefox 99 which is now avialable as snap,
Thunderbird 91,
Libre Office 7.3,
Pulse Audio 16,
Network Manager 1.36.
Conclusion
All in all, Ubuntu 22.04 Jammy Jellyfish is an exciting new major release with numerous useful updates that will their way to developers, system administrators, as well as desktop users. You may download Ubuntu Desktop directly from Canonical, or deploy a new Ubuntu Server at Cherry Servers within a few minutes.
To learn more about the Jammy Jellyfish, check official Ubuntu 22.04 release notes from Canonical.